Custom Design Process
Custom-made jewelry is a strength here at Mia Gemma. Our philosophy is that jewelry should be the ultimate expression of your personal style. With that in mind we work to create unique and timeless pieces with our clients that resonate with their true self. With more than thirty artists represented online, clients can explore many styles and sensibilities as they begin the custom design process. We are then able to pair our clients design aesthetic with the artist who can best execute their design vision. We help along the way with suggestions on design options as we shape a unique design that meets our client's objective.
The Mia Gemma custom jewelry design process varies from project to project. Sometimes a client comes to us with a concept and we guide them from idea to finished piece. Sometimes a family heirloom is the starting point. Other times we reset client's stones into a new piece of jewelry that updates the entire piece into something truly wonderful and enduring. Still other times, custom jewelry is inspired by pieces a client sees while browsing our website. For instance, a client who wears only white gold might love a piece in our online shop that is featured in yellow gold. We can easily create that same piece in white gold or platinum for her/him.
The custom process usually takes 4-6 weeks but we do our best to meet each client's timeline for delivery. We are known for going the extra mile on many occasions to make our clients happy. Please call or contact us online to learn more about our custom design. We look forward to making your jewelry design dreams a reality, whether you are looking for custom jewelry in Richmond, VA or elsewhere.
From Concept to Treasure/New Heirloom
The Stone: This 22 ct museum rarity Sphene was purchased by our client at one of our bi-annual Gemstone Roundtables. This particular Sphene, due to its large size and quality cut and color, is considered rare and by all standards a museum quality gem.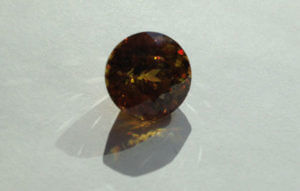 ---
The Sketches: The client wanted to create a pendant necklace that would highlight the rare beauty of the Sphene stone. We suggested a minimalist setting that would showcase the stone, protect it, and offered a dash of organic femininity. At our request, artist Liaung- Chung Yen proposed three ideas for the setting.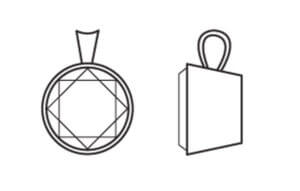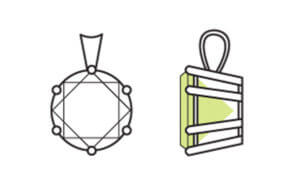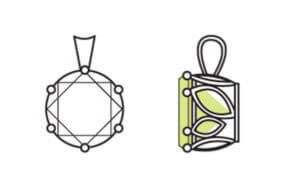 ---
The Workshop: Once the client chose the design, Liaung-Chung custom made the piece by hand in his studio. Working with a Sphene can be tricky as it is in the mid-range for softness on Moh's scale. Liaung had experience working with Sphene's and we were confident in his abilities.
---
The Treasure/New Heirloom: Liaung-Chung Yen created a uniquely beautiful Sphene pendant in 18k yellow gold which showcases the cut, color, and fire of this rare gem, and will bring much joy to or client and her family for generations to come.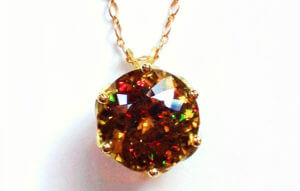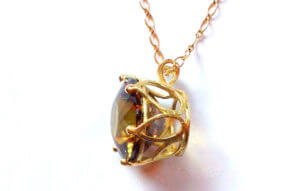 ---
Computer Aided Design (CAD): We are now offering CAD jewelry design services. Whether your design idea is a simple doodle, a recreation of an heirloom, or that piece of jewelry you want but just can't find, Mia Gemma can help make your design a reality. Our bench jeweler uses the latest Gemvision Matrix software to work with you on your design. He then produces photo-realistic renderings of the design that are reviewed and modified as needed with you. Once the design is agreed upon, your jewelry will be created.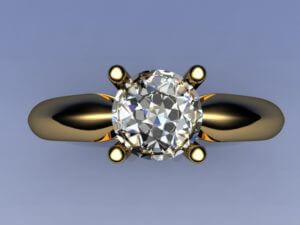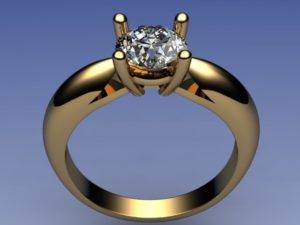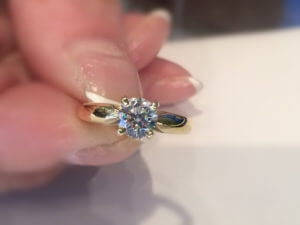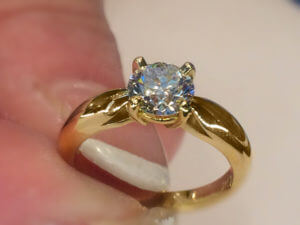 ---
Photo 1 & 2 – Custom CAD Design of Ring; Photo 3 &4 – Finished 18k Gold Ring with 1.1 Carat Diamond​.