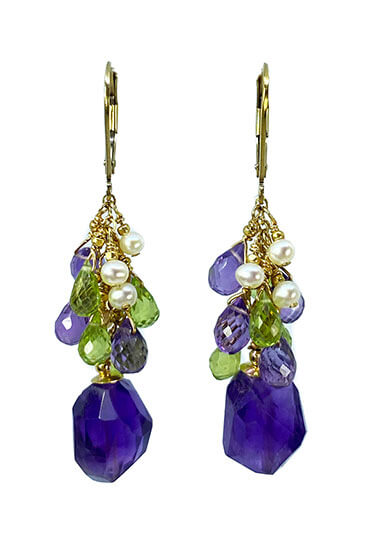 Melinda Lawton's passion of making jewelry jumped to the forefront when she realized that the jewelry she was creating out of beautiful gemstones for herself in her spare time, could become another outlet for her creativity. As a designer for film and television for almost 30 years, Melinda has always seen the world in color, texture, form, and movement. This background was perfect as she transitioned into jewelry design.
In 2003, Melinda Lawton Jewelry was born. Her jewelry is truly unforgettable… handmade with precious and semi-precious stones and metals. Worn by Carrie Underwood when she won American Idol, and featured in many National magazines, including InStyle, Lucky, Modern Bride, Latina, etc. , Melinda is now ready to debut her Diamond and Gemstone collection.
Her handmade jewelry for sale is timeless with strong roots in antique style. Using bold color combinations, and the finest gems, the creation of these treasures is truly her life's passion. As one customer just wrote her "Your jewelry is what I wear when I want to feel my bravest."
"This", says Melinda, "Is why I am so excited about making jewelry!" Empowering women… one at a time!
Showing 1–24 of 52 results